Rachel Roy posted this year's Met Gala Entrance on her Instagram! Beautiful!
Tonight's the night! Fashion's
biggest
night of the year-
MET BALL!
I am so excited to all the designer's take on this year's dress code of "White Tie & Decorations."
Go home Katy, you missed the theme.
This year's theme is completely opposite of last year's theme of Punk Chaos to Couture (which I still don't know how I felt about it, haha I mean Katy Perry arrived looking like a Saint? I don't understand).
Over the years, I've had SO many favorites, if not adore every outfit! The craftsmanship and thought that goes into these gowns is ridiculously amazing. But since this year is "White Tie" the ladies' outfits won't be the only thing to look forward to! The men have to be in tail coats with matching pants that have a strip of satin on the sides with cuff-links, black socks, and gloves - AKA look like David Beckham at the Royal Wedding! I'm so excited to see designer's take on this dress code.
I can't even deal.
But this year's theme is so fitting for the opening of the exhibit being celebrated! This year's exhibit is featuring Charles James' work. James was America's very first couture designer. His pieces
rival
come close, to those of Dior. Yet one thing about his pieces is that his pieces do not hide a woman's silhouette- it accentuates it. He formed to fabric to really show off a woman's body rather than add so many layers that the only person who could wear couture were the 70lb stick figures that we call "models."
"All my seams have meaning—they emphasize something about the body."
—CharlesJames
You can get a sneak peek of the exhibit
here
. The exhibit
"Charles James: Beyond Fashion"
runs from May 8 until August 10, 2014. I don't know about you, but I cannot wait to go check it out!
Courtesy of the Metropolitan Museum of Art

So this big Gala tonight is the opening to this exhibit and I am SUPER excited to see what everyone is going to be wearing. Perez Hilton reported a list of the attendees and who they will be wearing- CANNOT WAIT!
Amanda Seyfried: In Givenchy

Olivia Munn: In Diane von Furstenberg

Zooey Deschanel: In Tommy Hilfiger

Zoe Saldana: In Prabal Gurung and with hair by Aviva Perea

Lupita Nyong'o: In Prada

Michelle Dockery: In Prada

Anne Hathaway: styled by Penny Lovell, with hair by Adir Abergel and Kate Lee for makeup.

Elizabeth Olsen: styled by Cher Coulter, with hair by Mark Townsend

Ashley Olsen: hair by Mark Townsend

Mary-Kate Olsen: hair by Mark Townsend

Kate Bosworth: styled by Kris Zero

Kate Upton: styled by Cher Coulter

Nicole Richie: styled by Cher Coulter

Rita Ora: styled by Jason Rembert

Rosie Huntington Whitely: styled by Cher Coulter and makeup by Kate Lee

Amy Adams: hair by Laini Reeves; makeup by Stephen Sollitto

Chloe Grace Moretz: makeup by Mai Quyhn

Dakota Johnson: hair by Marcus Francis

Dree Hemingway: makeup by Nico Guilis

Emma Stone: hair by Mara Roszak

Emmy Rossum: hair by Ryan Trystad

Jessica Paré: hair by Marcus Francis and makeup by Mai Quyhn

Kristen Stewart: hair by Adir Abergel

Maggie Gyllenhaal: makeup by Molly R. Stern

Maggie Q: hair by Adir Abergel

Margot Robbie: In Diane von Furstenberg and hair by John D

Ruth Wilson: hair by Sascha Breuer

Taylor Swift: In J. Mendel and styled by Joseph Cassell

Zoe Kravitz: makeup by Kara Yoshimoto Bua

Rachel McAdams: hair by Ben Skervin

Diane Kruger: hair by Miki
Other confirmed attendees:
Jessica Chastain

Emilia Clarke

Naomi Watts

Allison Williams

Kim Kardashian

Sarah Jessica Parker
Here are some of my absolute favorites from previous Met Gala's:
Lana Del Rey in Joseph Altuzarra.
Someone that got last year's theme! The amazing SJP wearing Giles, Christian Louboutin boots, Philip Treacy headpiece, and Fred Leighton jewelry
Iman in Stella McCartney
Kristen Stewart in Chanel
Nina Ricci in Zac Posen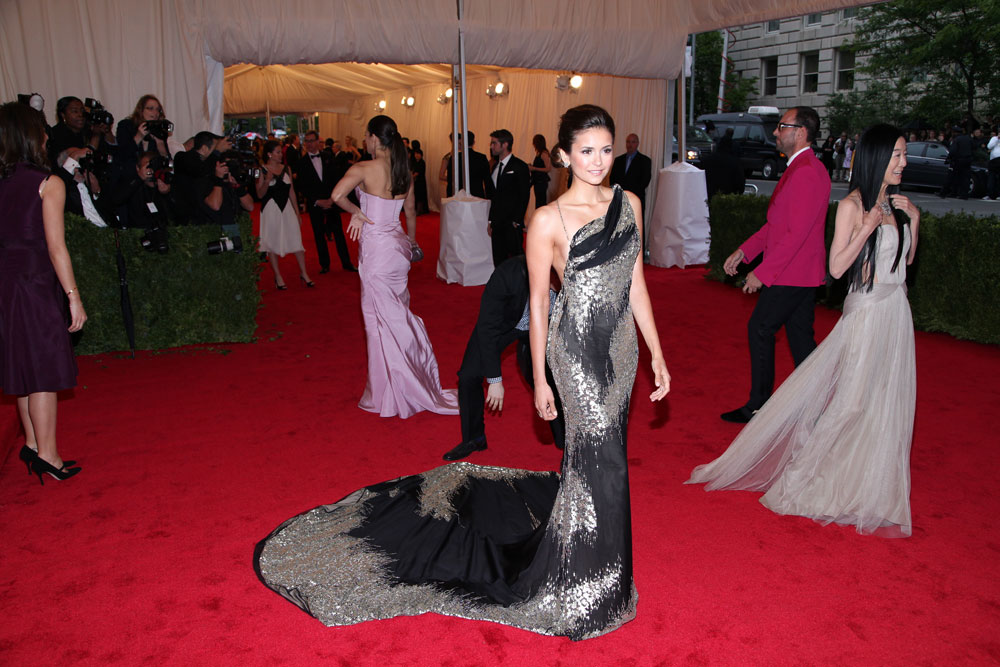 Nina Dobrev in Donna Karen