Yesterday was Fashion's greatest night of the year! The event happened in Manhattan, NYC. Click
here
to find out more regarding the Met's Exhibit featuring Charles James and find out my favorites over the years.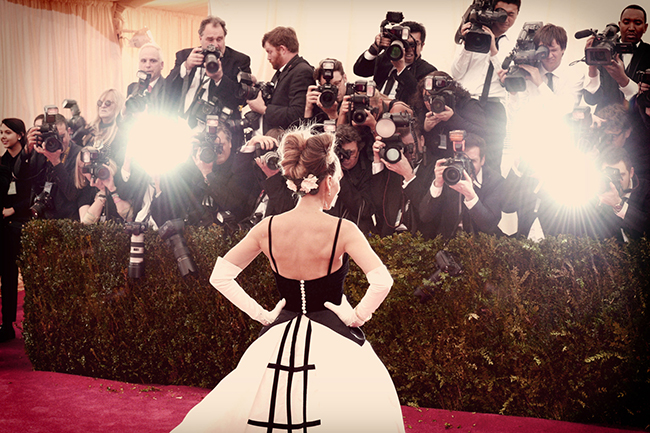 Photo credit: Andrew H. Walker | Getty Images
that didn't get an invite
WHOSE INVITES GOT LOST, A LIVE STREAM OF THE 2 HOUR RED CARPET. JESUS.
I don't know about you but I could not find a livestream anywhere. Super frustrating. But at least we have pictures of the red carpet, NO THANKS TO YOU, VOGUE.
Let me try to stay on topic. The dress code was "White Tie & Decorations" with the theme of the exhibit being Charles James: Beyond Fashion. Here are my absolute FAVORITE & HATED & then I DON'T KNOW WHAT looks of the night.
Favorite Couples:
1) The Beckhams. This couple is perfection. This is exactly what I imagined for the dress code. David (yes, we are on first name basis) is wearing Ralph Lauren while Victoria is wearing... wait, for it.... Victoria is wearing Victoria Beckham. Yes, she went to the Met wearing her line. Just makes her outfit even better. The stark white was the perfect choice for the occasion of "white tie." She took it literal and really stood out from the rest of the attendees. But the truth is, I don't think they could have done it any better. Completely flawless.
2) Blake Lively and Ryan Reynolds. Cant they get any cuter? Both are wearing Gucci. Love his velour jacket but I am completely OBSESSED with her dress. The flowy-ness of the back cape connecting to the train- ah-mazing. Then the silhouette of the bodice, perfection for her body type. Love how her hair is pulled to the side too. Great styling
3) The Carters... Both wearing Givenchy. Jay-Z looks great in his tux. But who can look at him when Beyonce is next to him. Let's be honest here. I love the netting and the see through but covered in the right areas. I adore this over her body hugging see through feathered gown from 2012. She is in the best shape and this truly accentuates it in a chic and, while risque, very elegant way. Love the beaded netting over her face, too. make the look very 1920's/Great Gatsby chic. This couple is the definition of the dress code- he is wearing white tie and she is the decoration.
4) Gisele Bundchen and Tom Brady never disappoint. His velour jacket and her Balenciaga dress that had velour details on it- breathtaking. Such a great look for them. They are the real life Barbie and Ken.
Now for the ladies that went solo:
2) Olivia Munn in a yellow Diane von Fürstenberg gown. I feel like she looks like an Old Hollywood movie star! The color is a perfect shade for her. Her hair pops from it and then has the little lavender accent on the belt to accentuate her tiny waist. While some that arrived in yellow looked like highlighters, Oliva Munn did yellow right.
4) Maggie Q in this Zac Posen dress should have been on the invitation to this event. THIS is GLAMOUR. THIS IS COUTURE. THIS IS WHITE TIE AND DECORATIONS. She is so tiny that the ruffles on the waist works out in her favor. This is so chic. She presented it perfectly too. With the perfect posture and facial expressions, she's couture. This is another great homage to the exhibit's subject Charles James with the seams of this dress really accentuating the body. Posen really has a similar aesthetic as James as far as structure and proportions. Maggie Q looks great. Zac Posen really nailed it with all the women he dressed this year.
5) Dakota Johnson in this midnight blue Jason Wu dress is another one that nailed it. She looks incredibly chic yet comfortable in her dress. She has such a tiny frame that the dress fits her like a glove which really shows Jason's craftsmanship. I love this dress..Love the beaded bodice for the perfect amount of glitz, but the bottom of the dress and the gloves really makes adds the perfect amount of glamour. Her hair is a beachy wave with the brown smokey eye was styled perfectly for this. Great for the Gala's theme and dress code.
2) Kate Upton. One of the most talked about woman right now and this is what Dolce & Gabanna chose for her. The dress is reminiscent of something Spanish with the dark lace. The corset adds to the silhouette and really accentuates her curves. But it is just too much. The thing on her head too? Sarah Jessica Parker is the ONLY one that could rock a headress. This is just a trainwreck. She is such a beautiful woman and there was just so many other options that she would have looked stunning in. This is just disappointing.
4) I really tried to like this. But I cannot do it. Why, Solange? WHY, Phillip Lim? Great color but it just looks like it doesn't fit her.
Wearing J. Mendel
3) Kim Kardashian... One of the most beautiful women around and this look is just "pretty." There's nothing left to say. This Lanvin dress on someone else with less of a curvy figure would look great. But Kim has such a great body that this just does nothing except accentuate her waist line. I don't know if I love or hate it.. it's just there.
4) Lake Bell.. Why so serious? Seriously, what is the problem here? Your dress is fab, why is every single picture of you on the carpet is of you having serious bitch face? It could have been worse, you could have been pregnant and dressed as a couch with a dress made out of a curtain by Givenchy. Cheer up, you look great.