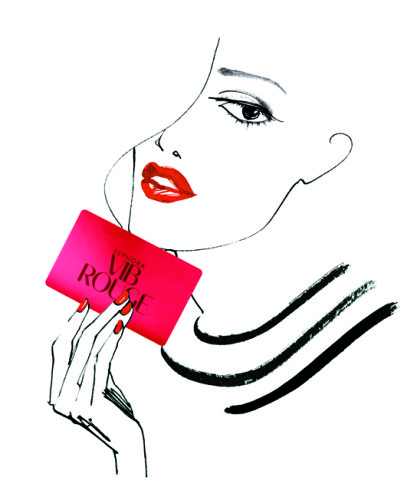 Are you a Sephora Beauty Insider? If not, you NEED to become one.
Why, you ask?
I have become a VIB Rouge which is just a step up from VIB (which is a step up from the Beauty Insider) where I get invited to parties where products are debuted before they hit shelves, get free 3 day shipping on any order online without a minimum amount, and complimentary walk in touch ups at any time. It's alright so far, but it's slowly getting better with them learning to give away more treats! lol
This past Sunday there was a VIB Rouge Spring Social where I could bring a guest, get 15% off my purchase AND my guest's purchase, receive a limited edition cosmetic bag, get lessons and new looks at the Beauty Studio and personalized advice from experts with coffee and treats. I unfortunately could not attend but today I got an email saying that I could get all of that (minus the coffee and treats) all day today! How amazing?!
So. I went in because I've been looking for a good orange nail polish color. My Essie "It's orange, obviously" got too thick and never dries! I wanted to try a new brand that I haven't tried before and so purchased this Marc Jacobs' "Snap!" It says it's a high shine nail polish with a wet look, plasticized finish for extreme wear. Just finished applying it, and so far I LOVE like it. First, the cap thing comes off and the base of the brush is too short. It's hard to hold with the ribbed grip. Aside from that, I had to apply 3 coats because the 2nd was not enough and I could still see my nail. Next time I'm going to paint my nail white first to have that as a base and then go from there. Also, the bottle made it look like a bright orange. But after it dries on your nails it's like a milky orange pastel. So not what I was prepared for but don't hate it.
I think I would have also been bothered if I paid full price for it! It's originally $18, well with my 15% off I only paid $15! AND I used 500 points and received Sephora's hottest picks. When I became a VIB Rouge member they gave me a sample of the Bite red lipstick. Again something I LOVE like. It makes me appreciate NARS so much more. It smears all over the place. Got on my teeth. BUT it's very VERY pigmented which is nice. More of a blood red color. The button at the bottom is a twist that makes the lipstick come up more rather than sharpening the pencil like NARS. One thing I do like about the Bite lipstick is that it is made out of natural organics with antioxidant resveratrol (whatever that is).
The 500 point reward also came with Argon Oil from Josie Maran, a tester of Balenciaga's new fragrance called Rosabotanica (it's flowery and strong) and an Hourglass Viel Mineral Primer with SPF15 which supposedly is a "silky skin-perfecter that absorbs shine and smoothes skin without parabens or synthetics."
&&
I got this free Sephora lip bag in addition to the free cosmetic bag along with skin care samples! I was so excited about the little cosmetic bag rather than the samples. I'm allergic to fragrance so I'm a little skeptical about trying some of the samples but I'm thinking about trying Sephora's Super Supreme Body Butter and the Smashbox Photo Finish Foundation Primer. I've been looking for a primer so hope it goes well and I like this kind. But at the same time, I'm hoping it doesn't because I feel like I already where too many layers (face cream, foundation and concealer) haha!
So that's my Sephora experience- go in for a nail polish come out with tons of new things! I'll make a post later if I fall in love with any of these products and would recommend them.
After 12am here, so Happy Friday!
Smooches,